You are currently on the:
CMHA National
Visit our provincial websites
Gold Level Sponsorship Donation of $5000.00
22 December 2020
The Young Fellows Club of Weyburn became a Gold Level Sponsor yesterday, and their logo will appear on our new Truck.  "We are very thankful they have chosen to support us in our fundraising efforts." (T.Collins)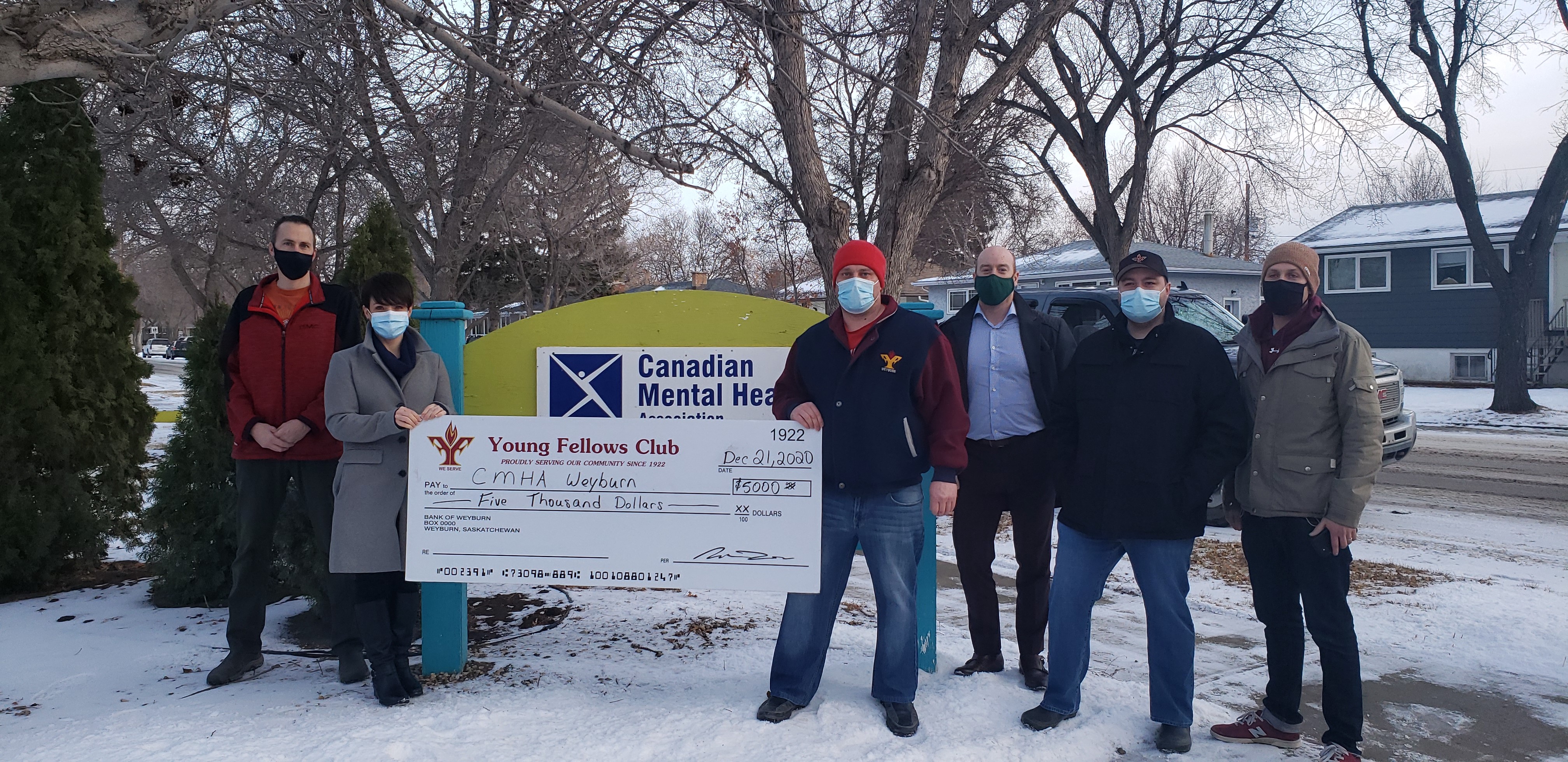 From left to right is Ryan Frost (CMHA Board Member), Kimberly Bitz (CMHA Board President),  Rob Stephanson, Reed Anderson, Ryan Bader, Preston Roy (Representatives from Young Fellows of Weyburn) 
Information about the Fundraising Efforts
CMHA Weyburn is currently in the process of replacing our eighteen-year-old extended cab pickup that is on a downward trend of requiring constant and significant maintenance. As our supervised crews often consist of 4 to 6 individuals, a crew cab truck will be much better suited to our needs and will serve us well into the future.
The CMHA Weyburn branch assists members in the community to build and develop their employment skill set through our Vocational Rehabilitation Services programing. You may have observed our crews working in the community in some of the following roles:
Sweeping sidewalks
Cutting grass
Cleaning yards
Shoveling snow
Moving items to the landfill
Custodial cleaning at the Livestock Exchange
This work provides our clients living with mental illness opportunities to be involved in meaningful work, to experience the feeling of accomplishment, and the opportunity to be involved with a team, thus leading to improved mental health.
Thank you to The Young Fellows Club of Weyburn for their support towards our Truck Purchase. It is so greatly appreciated.