You are currently on the:
CMHA National
Visit our provincial websites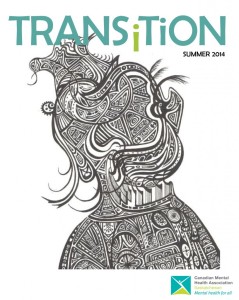 TRANSITION is a truly unique publication, published twice annually by the Saskatchewan Division of Canadian Mental Health Association. A subscription to TRANSITION is available by purchasing an annual CMHA Sask membership for $15.
TRANSITION is a magazine which publishes two kinds of works: those directly about mental health issues; and those about the individual's personal experience of those same issues. Both kinds of works celebrate lives in transit – lives of change, growth, and transformation.
We solicit original, unpublished articles, as well as fiction, non-fiction, poetry, book reviews, and visual art (black and white) that represent current mental health issues in our province and reflect on their impact on individuals. TRANSITION encourages emerging writers and artists of all kinds to submit their work for publication.
There are no deadlines for submissions as Transition Magazine accepts submissions continuously.
Submission Guidelines for Transition
Send original, unpublished articles, fiction, non-fiction, poetry, and visual art that represent current mental health issues and reflect on their impact on individuals.
Maximum manuscript lengths: articles – 15 pages; all other prose – 10 pages; poetry – 10 poems or 10 pages, whichever is less; visual art – 10 pieces.
Reprints and simultaneous submissions (to several magazines) are not considered.
Turnaround time is normally one issue or 6 months: do not send a second submission before the first has been reviewed.
Payment is $50.00 per printed page; $50.00 per published visual art work; and $200.00 for cover art. (Please Note: If artwork is submitted as part of an article, while it contributes to the page count, it is considered as an element of the article, and will not receive separate payment.)
Electronic submissions are preferred (full contact information). Submit manuscripts in Word or WordPerfect format (12-point Times New Roman, double-spaced, 2.5 cm margins) as e-mail attachment to: [email protected]
Send hard copy manuscripts (typed, one-sided, 12- point, double-spaced, 2.5 cm margins), together with self-addressed, stamped return envelopes with sufficient postage, to: TRANSITION, 2702 12th Ave., Regina, SK S4T 1J2
For more information contact:
TRANSITION
2702 12th Avenue
Regina, SK S4T 1J2
306-525-5601 extension 223 in Regina or
1-800-461-5483 (Toll Free in Saskatchewan only)
E-mail: TRANSITION
About the Editor
TRANSITION, an annual publication of the Canadian Mental Health Association (Saskatchewan Division) Inc., is edited by Ted Dyck. The author of four books of poetry and numerous periodical publications crossing many genres, Ted also operates WorDoctor, a writing editing service, and compiles an online literary magazine. A former editor of the literary magazine Grain, he has edited three essay collections and two books of poetry and conducted workshops in fiction, nonfiction and poetry. He is a skilled communicator having worked as a conference organizer and teacher of English for over twenty years in diverse settings such as Marburg University, Germany; Aurora College in the Northwest Territories; and Red Deer College. Highly regarded by his peers, Ted has won awards for both his writing and his teaching.
TRANSITION Archive
Subscribe to TRANSITION
While CMHA Sask currently ensures that a pdf copy of TRANSITION is available to share online, there is nothing like holding it hard-copy in your hands.
Purchase of an annual CMHA SK membership helps to ensure we can keep producing TRANSITION Magazine for years to come! Thank you for all of your support.
Contact CMHA SK toll free in Saskatchewan at 1-800-461-5463 – or call 306-525-5601 out of province. You can also email us for membership and subscription inquiries at